Hospitals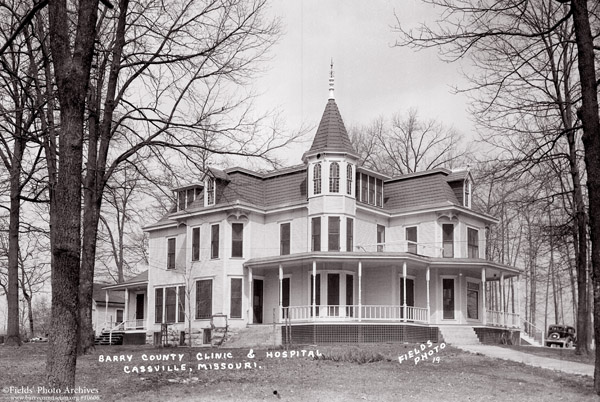 Barry County Clinic and Hospital 1935
From Early Barry County (1964)
Barry County Hospital established by Dr. Geo. Newman (son of Dr. S. M. Newman former Cassville doctor), 1933, located at the north entrance of Cassville in what was once the home of the J. W. Lecompte family. Dr. Newman married Dr. Mary Northcutt who became a partner in this hospital and this husband and wife team reaped friendship and good will of their county wide practice.This hospital employed four RN's, about the same number of nurse's aides. The staff of doctors included members of Barry County Medical Society. Later the hospital was moved downtown and equipment increased. Dr. Geo. Newman died Nov. 28, 1949, and on Jan. 1, 1950. Dr. Mary reopened the hospital and continued to carry on until April 1, 1951 when she closed the hospital and opened an office.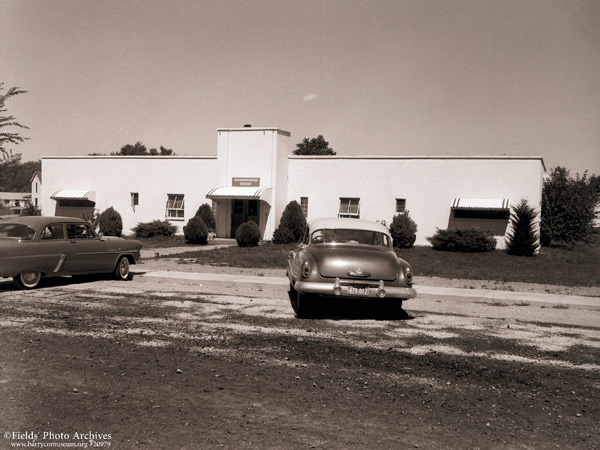 Cassville Community Hospital 1952
From Early Barry County (1964)
The Cassville Community Hospital with ten beds, opened March 28, 1951, Homer Somner owner and manager; Dr. Arthur A. Mickel hospital doctor; Dr. Elbert Rowe dietician; Mrs. Joseph Zetko head nurse; Miss Ruth Smith, receptionist and bookkeeper and Polly Stephens, technician. On March 15, 1956 the hospital closed. However it remained open to the public on an emergency operation by the city of Cassville from March 15 to June 15, 1956. A city bond was issued for $77,000 proposing purchase of the institution, but was turned down by the voters Jan. 2, 1957. Drs. Vance Vance L. Cridling and Arch J. Blair reopened the hospital having purchased the hospital and building earlier from Mr. and Mrs. Sommerfield 1960 two registered nurses; one licensed practical nurse, a receptionist and an accountant are employed. Dr. Cridling purchased Dr. Blair's interest in the hospital, effective July 31, 1958 and the name was changed to Cassville Osteopathic Hospital.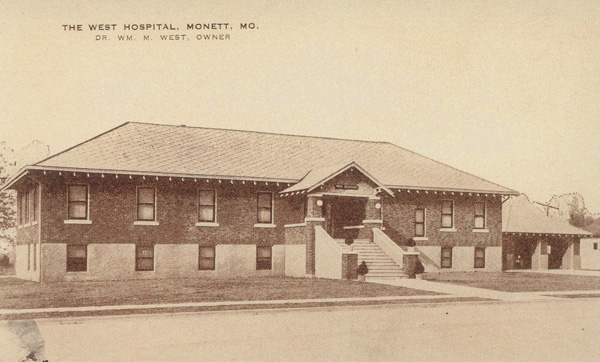 Dr. William West Hospital in Monett
From Early Barry County (1964)
Dr. West a local doctor, established the first hospital in the county in Monett. This hospital was located upstairs over Best Cleaners and Williams Shoe store, and the Monett Real Estate Company. At first the hospital had five beds and an operating room. Later It was enlarged to nine beds. Mrs. Virginia Hulse Perry (Mrs. Warren Perry) was employed as RN and Mrs. Mary Krehnller-Huffman (Mrs. J. E. Huffman) was employed as nurse's aide. The hospital closed down during World War I while Dr. West served on the surgical staff at Fort Sam Houston, Texas. In 1918 the hospital was reopened at the same location. In 1921 Dr. West leased Mrs. Amanda Wallace's entire roomlng house, corner of County and Sixth Street, and furnished the entire building in hospital fixtures, and used it until May, 1928, when he moved to a new, modern, red brick building at the corner of Benton and Lincoln streets, erected in 1927. And the privately owned hospital continued to serve the public, with Mrs. Alta Partridge RN and Mrs. Katie Henderson nurse's aide until 1941. After 27 years of active service, Dr. West closed his third hospital in Monett. April 13, 1942 the United Health Service, opened it as an isolation hospital, which was closed Nov. 15, 1943. Dr. West gave the hospital to the Vincentian Sisters of Charity, Perryville, Pa., Nov. 19, 1943.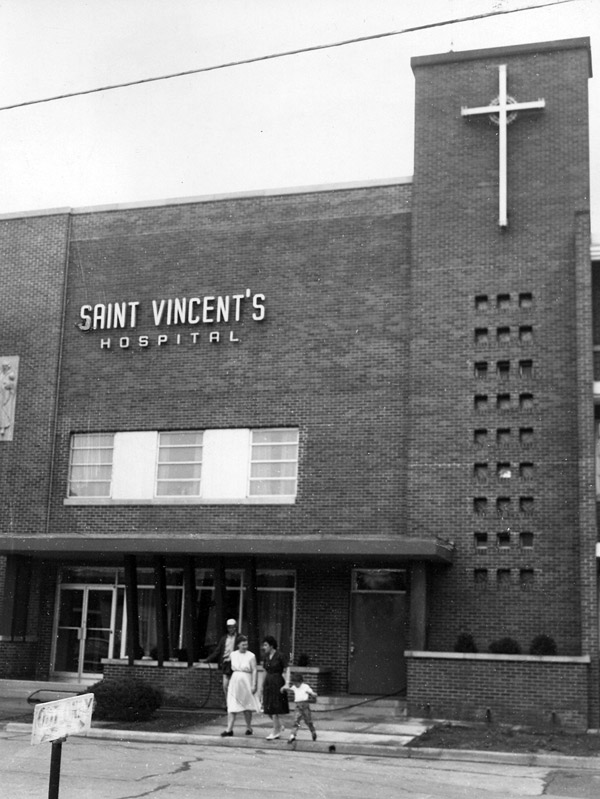 Saint Vincent's Hospital in Monett
From Early Barry County (1964)
The Sisters formally opened its doors to its first patient, Jan. 14, 1944. The hospital began its service with 18 beds two private rooms, two offices, eight semi-private rooms, chapel, doctor's room, delivery room, nursery, emergency room, diet kitchen, small laboratory, spacious storeroom, laundry.The dedication of the new St. Vincent Hospital was held April 2, 1954 and marked a real step forward in the field of medical science. There's a great body of cure in this 60 bed hospital. And moreover, the Dr. West wing has been opened to convalescent and infirm patients. Bringing St. Vincent Hospital to 1961, preliminary work is well under way for the construction of a new 40 bed addition to the hospital, replacing the original Dr. West's hospital, recently wrecked and moved away to make room for the west wing addition to be constructed by the M-P Construction Company of Carthage, Mo., at a cost of $964,465.