Tomato Canning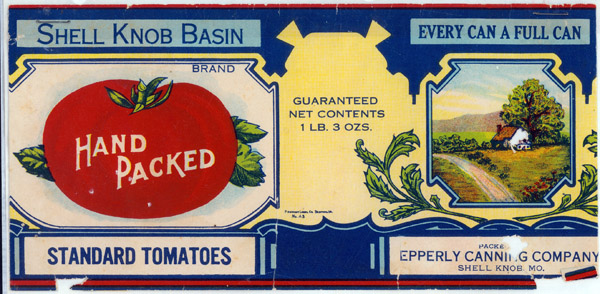 Epperly Canning Label in Shell Knob
Not too many years ago small and large communities had their first industrial activity in the canning factories that were established to handle the bountiful harvest of vegetables and fruits that were grown in the Ozarks area. This peaceful looking scene is actually taken southeast of Monett and the huge building housed a canning factory operated by J.J. Sperandio and J.J. Randall. Some of the factories did canning for name brand products using their product labels. Others boasted their own brand names and utilized their own colorful labels. Including the Plantation Brand Tomatoes produced by the J.J. Sperandio Canning Company of Monett, Mo. The contents of each can were one pound three ounces. Tomatoes, corn, green beans, and peas were popular products canned on a seasonal basis.--Monett 1887-1987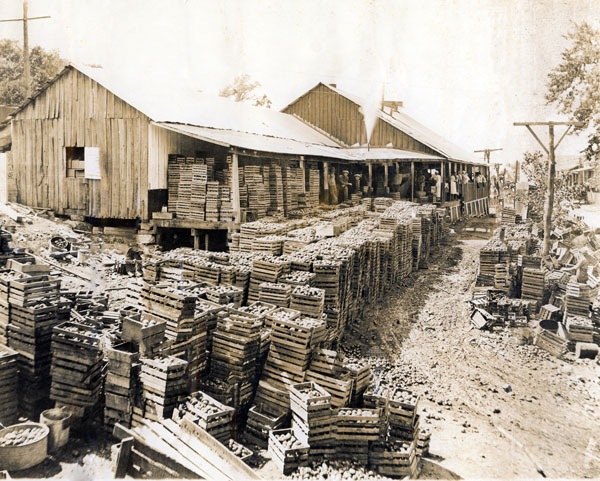 Walter Jones Canning near Washburn
From Early Barry County by Addah Longley Matthews
There is no history topic listed in this book which is spiced by more good wholesome family flavor, than is the local canning factory. In earlier days, the County pinpointed those areas near tillable acres in Barry County.
It is important to think of these canning factories as stepping stones of food preservation progress, and also remembering the canneries we know today are a far cry from canneries of the yesteryears.
Just how far back the canning factory in Barry County dates is unknown, since no recorded history remains to tell the story. Legendary history points to the belief they came on the heels the housewife's awakening to crude methods of preserving foods by canning, instead of the drying process.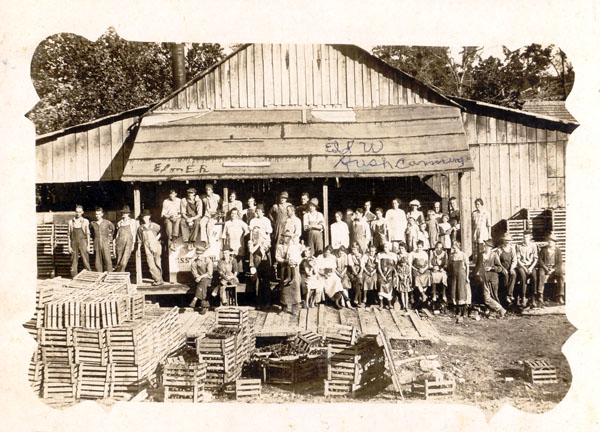 Rush Canning at Big Springs near Cassville
Cassville area was perhaps first to have a canning factory; and from memory of a few old time Cassville folk, one of the first, if not the first, canning factory was located near the spring in the southeast part of Cassville something like 60 or 70 years ago, dating from 1960. Just how long this canning factory continued to operate in Cassville is not certain.
A clipping from the Monett Times, "Back in the Good Old Days" in 1909 reveals that a canning factory, sponsored by the Monett Commercial Club was near where the Dr. Pepper Bottling plant is now located. And from Barry County in Pictures is listed the following canning factories in operation in 1937: Rush Canning located in Washburn. This canning factory still serves the Washburn area (1960). Heirs of O. Davis own and operated the cannery.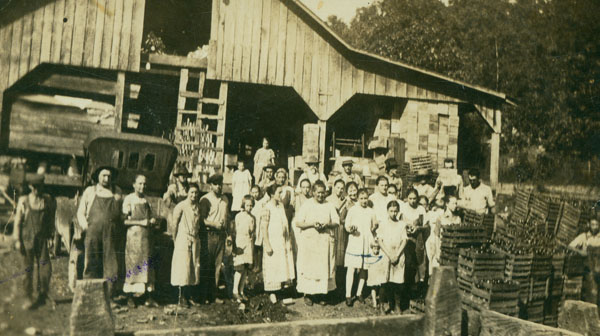 Tomato Canning near Purdy
Other canning companies mentioned are: Barry County Canning Company...Adkin's Canning Company, located at Purdy at one time,…C.A. Williams Canning Factory, located at Corsicana; Cris Carter Canning Factory located near the Pleasant Ridge School house; J.W. McClure Canning Company, Exeter; Purdy Canning Company.
These local canning factories operate much the same as the old time grist mills in the county: a certain percent or toll of number of cans of fruit or vegetables, canned; later, customers paid cash toll.
A late note: John Sperandio operated a canning at Tom Town on little Flat Creek for several years. The factory closed about 1953 or 1954. Mr. Sperandio still operates a canning factory at Leann at this writing.
Today, with pressure cookers and other sure-canning methods, home canning has replaced much of the commercial canning. Then, too, modern methods of deep freezing have come into their own, resulting in local canning factories becoming almost a thing of the past.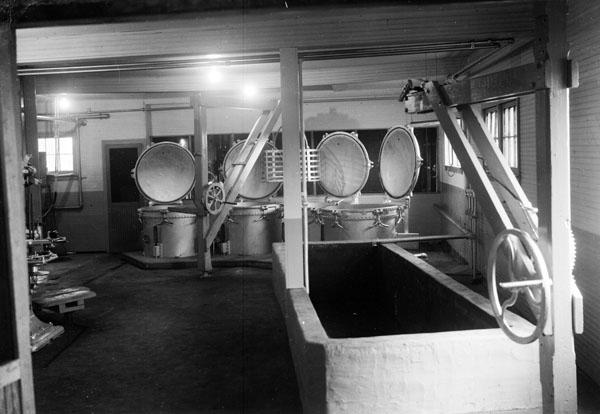 Inside Earl Rush Canning Factory 1936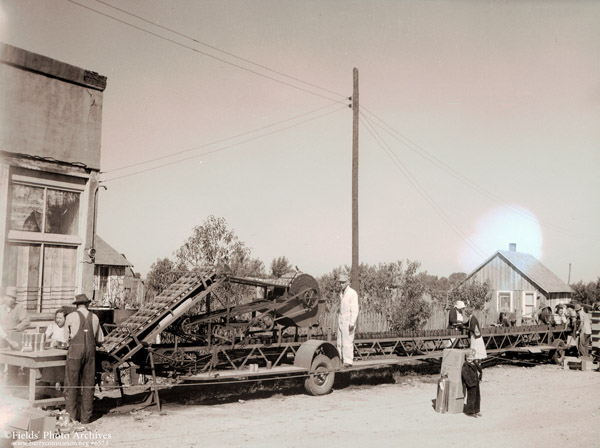 Major Scott canning in 1944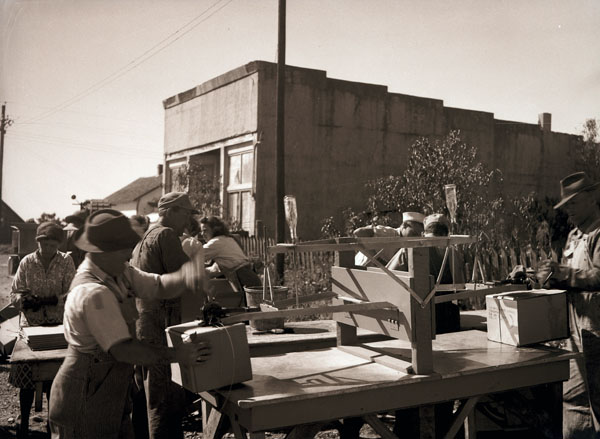 Wheaton had two canning factories. The first and oldest one was called the Wheaton Canning Factory and was operated by J.S. McQueen. According to the 1923 map of Wheaton it was located on the lot just to the north of the Ice and Storage house on Gardner Street, southeast of the depot. Later a canning factory was built further down the tracks southeast of the Depot. This new factory was also operated by J.S. McQueen and it was called the Quality Canning Company. This canning company remained in business under different management until the 1950s. Many of the Wheaton women remember working there during tomato canning season. The site of the old canning factory is near the Pete Hendrix Feed and Supply business.-- Wheaton Echoes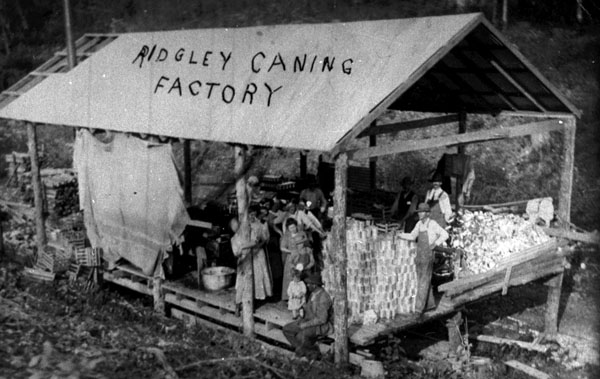 Ridgley Canning Factory
The Exeter Canning Factory was operated for at least 50 years. Several operators of the factory were Harmon, Ellston and Taylor, McClure, and McClure, Jim Harris and Bill Ash. Tomatoes, beans, and blackberries were some of the foods canned there. Hershel Stehlik purchased the factory around the late 1970s. Under the supervision of the Exeter Fire Department the building was burned in 1979. -- The First 100 Years in Exeter