Trail Of Tears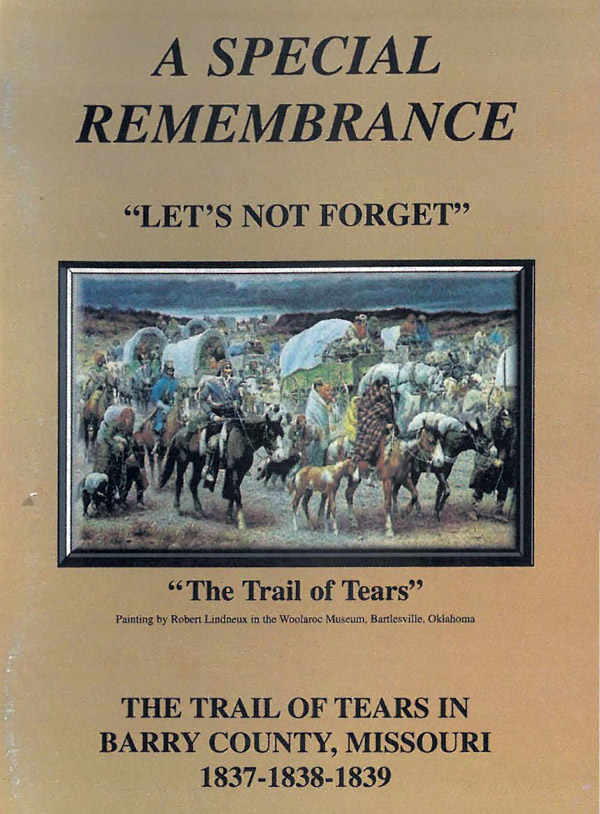 Cover to Trail of Tears in Barry County booklet by Ted Roller
The Cherokee"Trail of Tears"
   The Cherokee Indians entered Missouri, Arkansas and Oklahoma in 1838-1839 after being forced to march from their homelands east of the Mississippi by the government to their new homes in the Indian Territory which today is Oklahoma.
Any that would go peacefully was urged to leave prior to 1838 unescorted instead of being forced to move by the government during the two years following the treaty.
Before the forced removal of the Cherokee was ordered by General Winfield Scott on May 23, 1838, several groups of Cherokee had already started voluntarily for Oklahoma. Late in 1837, a party numbering 365, with B. B. Cannon as conductor, left Tennessee and set out on what is now called the Northern Route, which passed through Missouri.
One party had already immigrated peacefully, the second party, supervised by Conductor B. B. Cannon, left in 1837.  This detachment of 365 Cherokee were thought of being the first group to travel through the Southwest Missouri Ozarks.
The B. B. Cannon diary tells of the illness, death, and heartache suffered by the Cherokee Nation on the Trail of Tears. The removal should be remembered as one of the most inhumane deeds conducted to man by our government in our United States of America.

Map of Trail of Tears in Barry County, Missouri
From Diary of W. I. I. Morrow with detachment following the northern overland route charted by Conductor B. B. Cannon 1837

March 12, - Detachment started before day, traveled 12 miles to Danforth's-warm day-turned cold during the night. Snowing in the morning.    
March 13 – Cold morning. Came on to Springfield, 8 miles. Got no letter from home, much disappointed. Alfred Indian living here- Springfield is a rich country-many Indians get drunk.
March 14-Fine morning, clear and calm. General Smith, tavern keeper a clever fellow. Travel to Dyer (Bell Tavern) 12 miles.   
 March 15 - Clear and fine morning, traveled 17 miles to Allen's, said to be good house. A wagon ran over a little Indian's head, had to go to camp to see him. Stayed in Camps the first time since I left Illinois.

March 16 – Traveled 12 miles to Lock's in Barry County on Flat Creek, a branch of White River. Lock a gambler and hunter, did not sleep much. The girls and boys talked and laughed all night. A fine pleasant day.

March 17 – Sunday traveled up Flat Creek, 15 miles to McMurtry's – eat dinner at Mason's 2 miles northeast of McMurtry's – fine day.

March 18 – Clear and warm, traveled through Washburn's  Prairie and to Pratt's 18 mile – crossed the line of Arkansas and Missouri near Meek's on Sugar Creek, 7 miles northeast of Pratt's Monday night, hail, rain, wind, and thunder.

March 19 – Rain all day did not travel.

March 20 – Cloudy and cool, traveled 15 miles to the Cross Hollows eat dinner at Homesly's and came on 5 miles to Fitzgerald's in company with Cox Fields, Hemgar, and George D. Morrow – a mean house.

March 21 – Thursday – cloudy and cool – passed through Fayetteville and met the detachment at Cunningham's 3 miles from town – did not get a letter at town – much disappointed. Fayetteville in Washington County – fertile land around it – beautiful situation – a good courthouse – Bank house and some other good buildings got a mean dinner at the brick tavern. From Cunningham's, we traveled to Colonel Thomason's on the 22 of March – 16 miles, and on Saturday 23, we arrived at Woodall's in the Cherokee Nation, West. 3 miles from the boundary line.

March - 24 – Sunday, most of the Indians turned over to the government – settled my business and on Monday 25, left for John Ross  headquarters – traveled down Barren Fork of Illinois and over to the main river and took lodging at William Key's – Jim Brown there.

March 26 – Left after breakfast – saw C. N. Brown – got $6.00 arrived at Coady's for dinner, 10 miles – got dinner and went down to Ft. Gibson, 10 miles – returned from Ft. Gibson to Mrs. Coady's and stayed all night – saw Betty Cheek there.

March 27 – Came up to Coady's – tried to get my business settled, did not accomplish my object until Sunday, 1 o'clock when (Brother George, I. I. Fields, and black George) started for home – and traveled to Smith's 18 miles.

April 1–Left Smith's after breakfast–pd $1.50–12 miles to Mrs. Weber's – 8 miles to Vineyard – stopped at Wilson's – saw L. O. Taylor and Patterson. Got some good liquor, came down to Lea's Creek to Knox's 16 miles from Vineyard – passed Devault at natural mill dam. Stopped at – paid $1.50.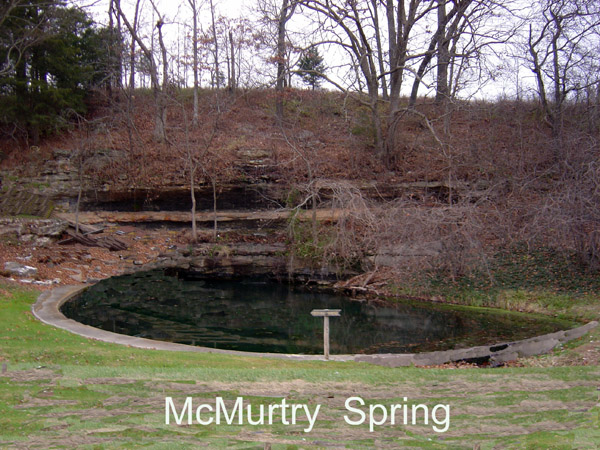 McMurtry Spring, campsite on the Trail of Tears
From Journal of Daniel S. Butrick during Cherokee Removal
Tuesday. [March 19th]
The detachment generally arose before day, and most of the teams were on the road either before or at day break, and in this way took the road before Mr. Hilderbrand. At night we camped in a beautiful prairie, and found a tree fallen by which we pitched our tent, and part of which we took for wood. The weather was almost uncomfortably warm, and the clouds seemed charged with electricity, and about sunset we heard low thunder. Soon after dark the wind arose almost to a tempest. We retired to rest as usual in our little carryall, but were awakened in the night by a severe storm. The wind drove with such violence, that a part of our tent was thrown down, and the rain beat in between the curtains of our carryall & wet our bed. We arose and partly dressed us, but could not think of going entirely into the open air, and therefore again wrapped ourselves in our bed clothes and fell asleep.A little before day, the rain was changed to snow, and the cold seemed very severe.
Wednesday. [March 20th] About day we arose in the storm, found our tent blown over mostly, and many things in it were wet. I found some difficulty in making a fire. My dear wife also came out in the storm, but as her cap & bonnet were wet, she tied a handkerchief on her head. My hat and shoes were also wet, and of course very uncomfortable. After eating a little we proceeded with the detachment, and suffered considerably from the cold. Passing through some large prairies, we arrived at Springfield, a pleasant village about noon.
Thursday. [March 21st] We travelled about 8 miles, and camped. As the waggons came up, in one was found a corpse. She had long been sick, and during the storm on Friday night, she probably took cold. This forenoon about ten miles from Springfield, we crossed a stream called St. James River.
Friday. [March 22nd] We travelled 17 miles over a barren desert, in general destitute of wood and water, but almost naked hills rose to view as far as the eye could reach. We camped in a beautiful place, on a small stream called Sugar Creek. Just before arriving at the encampment, a little boy was run over by a large waggon, the wheel passing over his neck & the back part of his head. The physicians were called, but supposing he would certainly die, did nothing for him. Mr. Taylor thinks the detachment will be obliged to travel next sabbath to keep out of the way of Mr. Hilderbrand, pressing them behind.
Saturday. [March 23rd] We understand that the wounded boy is better.Mrs. Butrick and myself left the detachment & travelled about 26 miles to a Mr. Mason's, (Littleberry Mason farm near what would be Cassville) and put up for the sabbath. Our host was from Tennessee, has a pleasant family, and good accommodations for travelers.
Sabbath. [March 24th] The morning is pleasant, but the prospect is that we can only rest alone, without any opportunity of attending public worship. We have a room by ourselves and everything is still and quiet about us. We hope, if the Lord will; before another holy sabbath to be in the country toward which we have been so long travelling. O how kind has the Lord been in preserving us thus far, on this tedious journey; and now what can we hope or desire but his kind direction and his supporting Presence. O for faith to confide only in Him.
Monday. [March 25th] We travelled with the detachment about 20 miles. The day was windy and dry so that the dust was often troublesome. Early in the evening it began to thunder, and we had just composed ourselves to sleep in our little carryall, when we were awakened by loud peals of thunder & a heavy rain falling upon us. One shower followed another so that we had but little sleep. The high trees, however, hanging over us, were not commissioned to do us any harm.
Tuesday. [March 26th] The morning was rainy & word came that the detachment would not move today unless the rain should cease by about ten o'clock. The rain continued yet by some means the idea was circulated among some of the camps about noon; that we were to proceed. Accordingly we prepared and went on with br. McPhaerson's teams. The thunder storm still continued, one shower after another, with but little intermission. We proceeded about 9 miles, & pitched our tents on a hill, where there were but few high trees about us. As our carryall was wet, we were obliged to sleep in our tent fixing chairs, as, we had two with us for a bedstead, to keep the bed from the wet ground. During the night the rain, wind & thunder continued with but little cessation. The thunder and lightning were quite severe.
Wednesday. [March 27th] We travelled about 6 miles, as most of the waggons did not move yesterday, but lay still where we camped night before last. The night was pleasant and still.
Thursday & Friday [March 28th & 29th] We travelled about 26 miles and camped on Friday night about 8 miles from the place in the nation, where the detachment is to stop.